The tracks in the Garhwal Himalayas are thrilling and adventurous. They take you through high altitudes and beautiful landscapes, making your experience amazing. The stunning natural beauty all around is truly fascinating. The Chopta Chandrashila Trek is one of the most exciting and challenging treks you can do near Chopta, Uttarakhand. It goes up to around 13,000 feet and is surrounded by mist, pine trees, and snow. 
The Chopta Chandrashila Tungnath Trek is perfect for beginners as it offers stunning views of peaks like Kedar, Chaukhamba, and the Himalayas. So, this blog by Holiday Park Chopta will guide you through the trip to Chandrashila. Here, you will delve into the details of the Chandrashila Trek and the best place for camping in Chopta, which will help you plan an unforgettable adventure amidst the Himalayan magnificence. 
How To Reach Chopta Chandrashila Tungnath?
Chandrashila is a common trekking spot in Uttarakhand. It takes approximately 4-5 days to complete. Several people visit here every other day to experience the Himalayan glory. Here is a Chandrashila Trek Itinerary:
Day 1: Chopta Arrival
Arrive at Chopta, the base camp for the trek.

Check-in to your accommodation.

Spend the day acclimatizing to the altitude.

Enjoy the serene beauty of Chopta and explore the nearby areas.

Overnight stay in Chopta.
Day 2: Chopta to Chandrshilla Tungnath
Have an early breakfast.

Start your trek towards Tungnath, the highest Shiva temple in the world.

Enjoy the scenic beauty of the trek, with rhododendron forests.

Reach Tungnath and explore the ancient temple.

After spending time at Tungnath, continue your trek towards Chandrashila.

Trek back to Chopta.

Overnight stay in Chopta.
Day 3: Chopta to Deoriatal
After breakfast, depart for Deoriatal.

The drive to Sari village (the base for Deoriatal) is around 45 minutes.

Begin your trek to Deoriatal, which is approximately 2.3 kilometers.

Reach Deoriatal and set up your camp by the lake.

Explore the beautiful surroundings.

Camp overnight by the lake.
Day 4: Return to Chopta
Wake up early and have breakfast.

Start your journey back to Chopta.

Enjoy the trekking trail once again as you make your way back.

Reach Chopta by late afternoon.

Rest, relax, and soak in the peaceful ambiance.

Overnight stay in Chopta.
Day 4: Departure
Have your final breakfast in Chopta.

Check out from your accommodation.

Depart for your next destination, taking with you the memories of your Chandrashila trek.
Best Time For Deoriatal Tungnath Chopta Chandrashila Trek
The best part about the Chandrashila Trek is that it is a year-round trek as the level of fun, thrill, and excitement is exclusive for every season. 
Here are some of the best times for the Chopta Chandrashila Tungnath Trek during the following seasons: 
1. Spring (March to June):
This is one of the most popular times for the Chandrashila Trek. During spring, the rhododendron forests are in full bloom, painting the trail with vibrant shades of red and pink. The weather is pleasant, with clear skies and moderate temperatures, making it an ideal time for trekking. However, keep in mind that this is also the busiest season, so accommodations might get booked quickly. It is better to book your Chopta Camping Packages beforehand.
2. Autumn (September to November):
Another excellent time for this trek is during the autumn months. The weather remains clear, and the skies are usually bright blue. The greenery turns a beautiful golden hue during this time, creating a stunning contrast against the backdrop of the Himalayan peaks. Like the spring season, autumn also offers pleasant temperatures, making it comfortable for trekking the Chandrashila Peak.
3. Winter (December to February):
If you're up for a snow adventure, winter is the time to go. The landscape is transformed into a winter wonderland, with the entire trail covered in snow. Trekking during winter offers a unique and tranquil experience with fewer crowds. However, it's essential to be well-prepared for cold temperatures and snowfall.
Each season has its charm, so the best time depends on your preferences and what kind of experience you seek. Spring and autumn are ideal for comfortable trekking with stunning natural beauty, while winter adds a touch of adventure with snowy landscapes. Summer months (June to August) are also possible for the trek, but the monsoon season can bring heavy rainfall, so it's advisable to check weather conditions before planning a trek during this time.
Conclusion
The Chopta Chandrashila Trek is not just a trek; it's a spiritual and visual path that offers a unique connection with nature and divinity. Whether you're an adventure seeker or a spiritual explorer, the Tungnath And Chandrashila Chopta Trek has something to offer for everyone. The happy moments we cherish when we get there and the feeling of accomplishment when we return home perfectly add up to the experience of embarking on the Chandrashila Trek with Chopta and Tungnath. 
To enjoy the Chandrashila trekking tour, spending a day in Chopta is advisable, as the altitude can be challenging for some. You can consider securing your spot at Holiday Park Chopta to experience the best camping in Chopta, Uttarakhand, within your budget. So, pack your bags, put on your trekking shoes, and embark on a journey that will carve beautiful memories in your heart while you explore the majestic beauty of Chopta, Tungnath, Chandrashila, and Deoriatal. 
Also, read out Activities To Do In Chopta  to make your Chandrashila Trekking experience unforgettable!
Get In Touch With Holiday Park Chopta:

Phone: +91-9758444450

Email: info@holidayparkchopta.com

Website: holidayparkchopta.com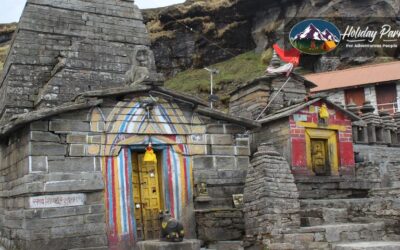 In the beautiful state of Uttarakhand, Tungnath Temple is India's highest Shiva temple. It stands as one of the holiest shrines dedicated to Lord Shiva. It's not only an ancient architecture but also a place of deep spiritual significance. To help you explore the...