Are you looking for a break from your hectic schedule and planning to explore a serene hill station? If yes, then Chopta should be at the top of your list. Chopta is a picturesque hill station located in the Uttarakhand state of India. It is situated in the lap of the Himalayas and is known for its natural beauty and serenity. The place is also popular for its trekking trails, camping sites, and wildlife. 
So, if you are planning a trip to Chopta, Holiday Park Chopta offers the best and cheap camping to make your trip a wonderful experience. We offer a range of activities for trekking, camping, bird watching, and other adventure activities. Our team at the campsite will guide you in planning your activities and ensure that you have a safe and enjoyable experience. In addition to jungle camping, we also offer snow camping in Chopta to refresh the mind, body, and soul.
Activities To Do In Chopta
There are plenty of things to do and explore in Chopta. Here are some of the top adventure activities to do in Chopta listed by Holiday Park Chopta.
1. Trekking
Trekking in Chopta is one of the most popular activities that attract adventure enthusiasts from all over the world. The place is surrounded by lush green forests and towering Himalayan peaks, which makes it an ideal destination for trekking. The region offers a variety of trekking options, ranging from easy to difficult, that cater to the needs of trekkers of all levels.
Chopta is the starting point for many popular treks, such as Tungnath, Chandrashila, and Deoriatal. The Tungnath trek is one of the most popular treks in Chopta. It is a 3.5 km trek that takes you to the Tungnath temple, which is the highest Shiva temple in the world. The Chandrashila trek is another popular trek offering stunning Himalayas views. 
2. Bird Watching
Chopta is not only a paradise for trekkers but also a bird watcher's pleasure. With its diverse range of landscapes, Chopta attracts a wide variety of bird species, such as Himalayan Monal, Koklass Pheasant, and Snow Partridge, that can be spotted in their natural habitat. The best time to go bird watching in Chopta is early in the morning when the birds are most active.
3. Camping
Camping in Chopta is an amazing experience of a lifetime. You can camp in the middle of the forests, surrounded by the sounds of nature. Holiday Park Chopta offers a range of the best camping options in Chopta that fits your budgets and preferences. You can choose budget-friendly camping, deluxe camping, and luxury camping in Chopta, which will give you a refreshing feel and a chance to meet your inner self.
In addition, this unique experience allows you to reconnect with nature and enjoy the serene surroundings of the Himalayan mountains. The region's beauty is unmatched, and camping in Chopta is a great way to immerse yourself.
4. Photography
Chopta offers breathtaking views of the Himalayas, forests, and various flora and fauna. Photography enthusiasts will find plenty of opportunities to capture stunning photos in Chopta. You can capture amazing shots of the sunrise, sunset, and starry night sky. The campsite of Holiday Park Chopta also provides stunning landscape views to meet nature in its purest form.
5. Nature Walks
Chopta is home to a diverse range of flora and fauna. It offers a range of nature walks that allow you to explore the beautiful flora and fauna of the region. You can go on Deoriatal Lake Trek, which takes you through dense forests, where you can spot a variety of birds and wildlife, such as musk deer, Himalayan black bears, and foxes. The walk will give you stunning reflections and panoramic views of the mountains. 
So, whether you're a seasoned hiker or a casual nature enthusiast, Chopta has plenty of things to offer regarding nature walks. You can also consider our best Chopta camping and tour package that will give you memorable moments in the lap of nature. At Holiday Park Chopta, our highly skilled staff can also assist you in making a cheap tour plan that will give you a satisfactory feel.
6. Bonfire And Stargazing
Camping in Chopta is incomplete without a bonfire and stargazing session. You can sit around the bonfire and enjoy the warmth while gazing at the stars in a peaceful environment.
A bonfire in Chopta is a perfect way to unwind after a long day of trekking or nature walks. There are plenty of spots at Holiday Park Chopta where you can light a fire and enjoy the warmth of the flames. 
As the night sky clears, Star gazing is an absolute must-do activity in Chopta. With almost no light pollution, the stars are visible in all their glory, and you can spend hours gazing at constellations. In the clear sky, the tourists observe the immortality of nature closely.
7. Adventure Activities In Chopta
Chopta also offers a variety of thrilling activities for those looking for intense excitement. Rock climbing is one of the most popular adventure sports in Chopta. The region's natural rock formations provide an ideal landscape for climbers of all levels. 
The nearby Kedar Dome is a popular spot for rock climbing in Chopta, offering challenging routes and stunning views of the Himalayas. In addition to rock climbing, other adventure activities are also available such as bungee jumping, river rafting, and zip-lining.
Conclusion
Whether you are a nature lover, an adventure seeker, or someone who wants to relax and unwind, Chopta has something for everyone. Chopta offers a wide range of activities that cater to all interests and preferences.   
Chopta is a beautiful destination that offers a peaceful getaway from the hustle and bustle of city life. The stunning views of the Himalayas, lush green forests, and crystal-clear lakes will surely leave you mesmerized. 
A trip to Chopta is an unforgettable experience that will leave you with memories to cherish forever. So, whether traveling with friends or family, pack your bags and start your journey to Holiday Park Chopta for a rejuvenating vacation to refresh your mind, body, and soul. Our team is highly skilled in arranging adventure tours that suit individuals, corporations, and families. Trust the Holiday Park Chopta when it comes to having an experience of a lifetime.
So get in touch with our customer helpdesk to know more details about our best camping packages in Chopta. 
Phone: +91-9758444450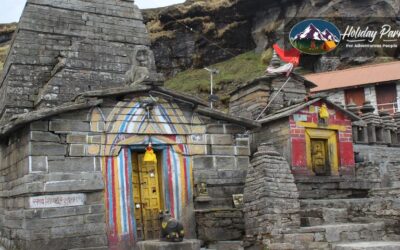 In the beautiful state of Uttarakhand, Tungnath Temple is India's highest Shiva temple. It stands as one of the holiest shrines dedicated to Lord Shiva. It's not only an ancient architecture but also a place of deep spiritual significance. To help you explore the...