The Chopta Chandrashila Trek is situated in Uttrakhand's Garhwal area. If you're looking for a journey that will elevate you, the Chopta Chandrashila Trek is a great option. This amazing journey provides stunning vistas and the chance to scale the formidable Chandrashila summit. But first, let's take a broad look at the Chopra trekking tips for this epic adventure before we get into the specifics. Fasten your seatbelts and get ready for an incredible adventure, but remember, safety comes first!
The most crucial step in our adventure is creating a rucksack when preparing to travel on the Chopta Chandrashila trek. We must choose which items to bring and which not to. Uttarakhand's Chopta-Tungnath hike is situated towards the top of the Himalayas. So, knowing what to bring on the Chopta-Tungnath hike becomes important.
Preparations Tips For Chopta Chandrashila Trek
The excitement of getting ready for a trip! Here are some essential Chopta Trekking Tips to consider as you get ready for a once-in-a-lifetime experience:
First and foremost, make sure you have a reliable pair of trekking shoes—flip-flops won't do. 

Keep the necessities for hiking, like a windproof jacket, dry socks, and a hat.

If available, put on the proper socks with waterproof linings.

Use a sturdy walking stick for your hike from Chopta to Tungnath.

Bring dry snacks and meals from home because there may not be as many stores along the course.

Because you'll be carrying the rucksack the entire way, pack lightly and shrewdly. 

Remember to include necessities like a hat, sunscreen, and a raincoat to shield you from the sun's harsh rays or rainfall. 

Oh, and a decent sleeping bag is a need for a comfortable night's sleep outside. 

You don't want to run out of breath too soon, so be in shape before you go on this excursion. Keep drinking, everyone.

Bring along enough water to satiate your thirst and maintain your stamina. Water is just as important as the protein bars you intend to pack. 

Dress warmly and lightly, and bring a mackintosh in case it starts to rain suddenly.

Always have enough plastic waterproof bags for your camera or phone.

Once you join the group for a walk, try to find a comfortable pace that feels right for you. Don't walk too fast or too slow, as this could make you tired too soon.

After Chopta, there aren't many charging stations or ATMs. So always have a power bank and a significant quantity of cash with you.

Though it is prohibited inside the temple grounds, photography is permitted surrounding Tungnath.

Last but not least, don't forget to bring an optimistic outlook and an adventurous attitude. 
Prepare yourself for a once-in-a-lifetime adventure since this voyage will be a rollercoaster of memories and emotions. Let's take a minute to breathe deeply and then plunge into the fascinating world of the Chopta Chandrashila trek.
Fact Travel Tips
Here are some helpful travel advice, tour planning suggestions, and noteworthy data that will greatly assist you in creating a successful Chopta trekking tips itinerary.
The

Chopta Chandrashila trek

region lacks power since it is adjacent to the Sanctuary area. Some camp and hotel owners have effective solar power systems to fulfill the electrical needs of their visitors, and that is plenty to recharge your camera and other batteries.

Carrying extra batteries or data banks is advised because solar systems can fail due to overcast weather.

In order to increase your chances of seeing gorgeous pheasants, uncommon birds like the Monal, Koklass, and Eurasian woodcock, as well as wild creatures like the Himalayan goat and barking deer, it is best to walk in small groups and to be quiet at all times.

Don't bring your own tent to Chopta, as the forest department has outlawed personal camping there.

To gain a clear view of Himalayan peaks, begin your walk early in the morning. Cloud formation in the Himalayas often begins around 12 o'clock in the afternoon, and this prevents unobstructed views of the mountains.

Don't try to complete the Deoriatal and Tungnath-Chandrashila hikes on the same day; you'll end up being quite exhausted. And even if you succeed, you'll feel as though you missed out on a lot of what brought you to the mountains in the first place.
Fitness Preparation 
One of the most important Chopta trekking tips is that it may also require you to develop some leg strength, so working out at the gym or doing walks and runs up steep hills may be beneficial. To ensure that you don't get fatigued throughout the trek, simulate the journey when you are practicing.
As you will be traveling with your rucksack, practice hiking with some weight on your shoulders. It's not required to purchase a walking pole for the hike to provide additional assistance. You'll be lugging your backpack the entire walk, so don't overpack.
Before embarking on the Chopta Chandrashila trek, here are some beneficial workout exercises to consider:
Walking is a workout that aids in weight loss and leg toning. Your heart beats more quickly as a result, supplying your muscles and organs with more blood and oxygen.
It is a great cardiovascular exercise. Your heart rate is up, and it helps you keep it there. It is a cardiovascular exercise. It thus requires a lot of oxygen. Consequently, you are also improving the efficiency of your lungs.
Squats are a good way to stay functionally fit. They encourage stability and equilibrium. They also help to strengthen your hamstrings, hips, buttocks, and legs.
Against gravity, pushing your body up stair after stair is a wonderful cardiovascular workout. It increases strength and power while burning a great deal of calories. When you reach the peak and carefully make your way back down, you unknowingly engage in interval training.
Safety Considerations
Your primary focus before starting the Chopta Chandrashila trek should be safety. Be mindful of your own health and avoid making decisions that will put you in danger.
Make sure you are physically prepared for the hike first and foremost. Take the high altitude seriously since it might be difficult. The weather is yet another crucial factor. Be ready for unforeseen developments by checking the weather in advance. Carry the necessary clothing and equipment to shield yourself from the rain, wind, and cold.
Unpredictable weather is the spice of life, but if you're unprepared, it may also put an end to your expedition. It is advised to always travel with a group or a friend and avoid walking alone. This way, you can assist each other and have a memorable adventure even if you get lost. Additionally, it's important to inform someone in charge of your plans and expected return time.
Medical Advice
Even though trekking may be an exciting activity, sometimes accidents do happen. The only thing you can do in circumstances like this is to be prepared.
First aid kits are often provided by the tour guides. It would be a fantastic idea if you carried one, though. Keep all of your requirements in the order listed above.
Even if the hiking guides provide visitors with safety precautions, it is vital to be knowledgeable. These also comprise CPR or emergency resuscitation skills. Most people who embark on these lengthy treks in high-altitude regions risk contracting several prevalent diseases.
Suppose you're experiencing symptoms like insomnia, headaches, lung or digestive issues, ataxia, and other similar symptoms while at high altitudes; you may be suffering from Acute Mountain Sickness, which is a commonly occurring form of altitude sickness. To determine if it is safe for you to continue your travels, it is recommended that you seek medical attention as soon as possible.
Conclusion 
Pack as little as possible, but don't forget the necessities like warm clothing, a solid backpack, comfortable hiking shoes, and a camera to record those breathtaking moments! Oh, and to shield yourself from the sun's ruthless fury, don't forget the sunscreen. Although hiking may be exciting, always put safety first. Safety is not just a catchphrase; it's essential to having a good and satisfying trekking adventure.
A visit to the Chopta Chandrashila trek is a once-in-a-lifetime opportunity to provide you with priceless memories. Pack your luggage and set out at Holiday Park Chopta for a refreshing holiday to rejuvenate your mind, body, and spirit. Whether you're a lone explorer, adventuring with friends, or sharing the experience with family, our Chopta Chandrashila trekking package is suitable for everyone, ensuring an enriching experience. 
So if you plan to visit Chopta, we have all the facilities for you. We provide affordable camping packages in Chopta to immerse you in the breathtaking beauty of this pristine destination.
Book your package now by contacting us at:
Phone: +91 9758444450
Accept the majesty of nature, push your boundaries, and make lifelong memories. Wish you a happy trek!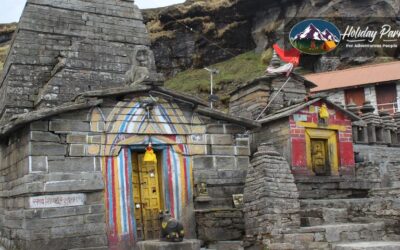 In the beautiful state of Uttarakhand, Tungnath Temple is India's highest Shiva temple. It stands as one of the holiest shrines dedicated to Lord Shiva. It's not only an ancient architecture but also a place of deep spiritual significance. To help you explore the...