While there are a number of destinations that come to your mind when planning a trip to the Himalayas for a delightful holiday, but everyone wants to visit a place that remains in their memory forever. In our opinion, Chopta, located in the peaceful lap of the Garhwal Himalayas, falls into this category. 
This hidden gem is a piece of heaven that boasts lush green landscapes, majestic mountain ranges, fluffy fields, and stunning sights. Chopta has the power to capture your heart effortlessly. Serving as both a camping haven and a sacred pilgrimage site, Chopta isn't an ordinary vacation spot. So here, Holiday Park Chopta-one of the best camp in Chopta, present compelling reasons why you should visit Chopta Valley in Uttarakhand. 
7 Reasons To Visit Chopta Valley In Uttarakhand
If you're contemplating a visit to Chopta Valley in Uttarakhand, here are seven compelling reasons that will make you pack your bags and head to Chopta:
1. Majestic Views Of The Himalayas:
Chopta stands as a haven for nature enthusiasts and photography lovers due to its renowned feature – the majestic views it offers of the Himalayan mountain range. The landscape is decorated with awe-inspiring peaks, including the prominent Trishul, Nanda Devi, and Chaukhamba. These towering, snow-capped mountains create an outstanding backdrop that is nothing short of breathtaking. As the sun casts its shades upon these peaks, the beauty that unfolds is a spectacle to behold. It's a place where the magnificence of nature is on full display that captures the hearts of all who visit, and makes Chopta an unparalleled destination.
2. Fresh Trekking Trails:
Chopta beckons trekkers and adventure enthusiasts with its pristine and unexplored trekking trails. Among them, the trek to Tungnath holds a special charm, as it leads to one of the sacred Panch Kedar temples and happens to be the world's highest Shiva temple. The trail continues further to Chandrashila, which is a remarkable vantage point renowned for its panoramic views of the Himalayan splendor. These fresh trekking routes promise not only physical joy but also a deep connection with the natural beauty and spiritual essence of the region.
3. Breathtaking Biodiversity:
Chopta's charm extends beyond its mesmerizing landscapes, which encompasses a rich tapestry of biodiversity as it is a part of Kedarnath Wildlife Sanctuary. This sanctuary is a shelter for an array of wildlife, from the elusive musk deer and majestic leopards to the vibrant pheasants and Himalayan tahrs. The sanctuary's green fields come alive with a burst of color during spring as rhododendron blooms paint the landscape. This offers a breathtaking visual treat that harmonizes with the peaceful surroundings.
4. Peaceful Camping Sites:
Chopta offers numerous camping sites amidst its serene landscapes. Camping under the starlit sky with the Himalayas in the background is an unforgettable experience. It's an excellent way to detach from the hustle and bustle of city life and immerse yourself in nature. If you are looking for one of the most affordable and best camping packages in Chopta, you can consider booking Holiday Park Chopta.
5. Birdwatcher's Paradise:
Chopta emerges as a birdwatcher's paradise, welcoming them with its diverse inhabitants. It can be a pleasure for enthusiasts to enjoy birdwatching in Chopta Valley in Uttarakhand. This valley is filled with the graceful presence of Himalayan monals, koklass pheasants, and many other captivating bird species. So, don't forget your binoculars and camera to witness a symphony of colors and melodies as these feathered residents go about their lives. The beautiful sounds of birdsong add a magical touch to Chopta's already captivating surroundings, making it a haven not only for the eyes but also for birdwatching enthusiasts' souls.
6. Peaceful Atmosphere:
Chopta's charm is deeply rooted in its serene and tranquil environment. Far away from the noise and pollution of urban life, Chopta Valley in Uttarakhand provides a shelter for revitalizing your mental and spiritual well-being. The gentle symphony of nature's sounds and the refreshing mountain breeze craft an atmosphere that helps tranquility, meditation, and introspection. This peaceful ambiance beckons those seeking relief to engage themselves in the breathtaking beauty of nature and find comfort in its embrace.
7. Chopta Meadows:
Chopta Meadows, locally referred to as the "Chopta Bugyal," unfolds as a sprawling carpet of lush green meadows welcomed by leafy forests. Particularly enchanting during the summer season, these meadows burst into a hoot of colors with the blossoming of vibrant wildflowers. They provide an idyllic setting for a variety of activities, from leisurely picnics amidst nature's splendor to capturing scenic beauty through the lens of your camera. The Chopta Meadows is an invitation to engage yourself in the lap of spotless nature, offering a serene and rejuvenating experience that cannot be forgotten.
The Final Words
In conclusion, Chopta Valley is a heaven for nature enthusiasts, trekkers, and anyone seeking comfort in the lap of the Himalayas. Its unparalleled beauty, diverse wildlife, and peaceful atmosphere make it a destination worth exploring. Whether you're an adventure seeker or someone looking for a serene escape, Chopta has something remarkable to offer. 
 So, which of these compelling reasons to visit Chopta Valley in Uttarakhand would inspire you? Feel free to share your choice with us in the comments below. And if you found this blog enjoyable, please don't hesitate to show your appreciation by giving it a thumbs up! And if at all, you need our help to stay in Chopta, don't hesitate to call us at +91-9758444450  or mail us at info@holidayparkchopta.com.
We at Holiday Park Chopta will provide you with a wide range of Chopta Camping Packages that will make you enjoy this "Mini Switzerland of India" within your budget. So, plan your trip to this enchanting valley, and you'll discover why it's often regarded as one of Uttarakhand's best-kept secrets.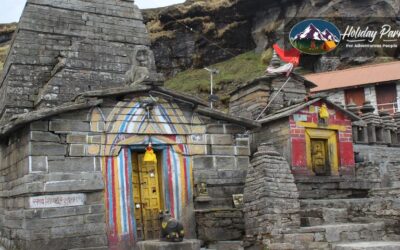 In the beautiful state of Uttarakhand, Tungnath Temple is India's highest Shiva temple. It stands as one of the holiest shrines dedicated to Lord Shiva. It's not only an ancient architecture but also a place of deep spiritual significance. To help you explore the...