Chopta is a small hill station located in the Rudraprayag district of Uttarakhand, India. This hill station is no less than heaven for nature lovers and adventure enthusiasts. It is known for its spectacular natural beauty, snow-covered peaks, and trekking routes. 
One of the best ways to explore the beauty of Chopta is by camping in the lap of nature. However, booking a campsite in Chopta can be a difficult task, especially if you are a first-time visitor. So in this blog, Holiday Park Chopta, which provides the best camping in Chopta, will guide you through some tips to help you book your Chopta campsite for a hassle-free experience.
Tips For Choosing The Best Camping In Chopta
Camping in Chopta is a great way to experience the natural beauty of this hill station. There are several camping sites in Chopta, each with its unique features and offerings. So to help you choose the most suitable camping, Holiday Park Chopta has listed some tips for choosing the best camping in Chopta.
1. Plan Your Chopta Camping In Advance
The first and foremost tip for booking your Chopta campsite is to plan your trip in advance. Chopta is a popular tourist destination, and the camp gets booked out quickly, especially during peak season. Therefore, booking your campsite at least two months in advance is advisable to avoid disappointment. 
2. Research Well
Before booking your campsite, it is essential to research the various options available. You can check the online reviews of the campsites, ask for recommendations from friends or travel experts, and compare the prices and amenities offered by different campsites.
3. Choose The Right Location
The location of the camping site is one of the most important factors to consider when choosing the best camping site in Chopta. You can choose a camping site that is located near the trekking trails or has stunning views of the Himalayan ranges. If you are looking for a peaceful and unforgettable camping experience, you can choose Holiday Park Chopta, which is surrounded by dense forests.
4. Check The Amenities
Before booking a camping site in Chopta, make sure to check the amenities provided by the campsite. Our best and luxury camping in Chopta has all the essential amenities, including clean washrooms, hot water, a bonfire, and electricity. 
5. Activities
Chopta is a popular destination for trekking and hiking. If you are an adventure enthusiast, you can choose a camping site that offers trekking and hiking activities. Holiday Park Chopta also provides activities such as bird watching, stargazing, and nature walks. You can choose a camping site based on your interests and preferences.
6. Cost
The cost of the camping site is another important factor to consider when choosing the best camping site in Chopta. Some camping sites are expensive, while some are budget-friendly. So make sure to check the cost of the camping site before booking it. You can also compare the prices of different camping sites to find the best deal.
We at Holiday Park Chopta offer budget-friendly camping in Chopta that doesn't put a dent in your pocket.
7.  Check Reviews
Before booking a camping site in Chopta, read reviews and feedback from other travellers who have stayed at the campsite. Reviews can give you a better idea of the quality of the campsite's services and help you escape from fraudulent camping sites.
8. Check The Safety Measure
Safety should be your top priority while booking the best camping site in Chopta. The campsite should have security personnel and should be well-lit at night. Holiday Park Chopta focuses on safety measures and provides first aid and emergency services to visitors.
Conclusion
Booking a campsite in Chopta can be a challenging task, but by following these tips and tricks for an unforgettable experience, you can make the trip hassle-free and enjoyable. These essential steps will ensure safety with a memorable camping experience in Chopta. 
By considering these options, Holiday Park Chopta offers the best luxury camping in Chopta. Our expert staff team is dedicated to ensuring every guest has a comfortable and memorable stay. At our Chopta luxury camping, we offer a range of amenities and facilities to cater to your needs. Our well-appointed tents are equipped with comfortable beds, clean linen, and modern amenities such as charging ports and lighting. So you can relax and enjoy the peaceful natural surroundings while enjoying the comforts of a hotel room.
So get in touch with our customer helpdesk to know more details about our best camping packages in Chopta. Contact us at:
Phone: +91-9758444450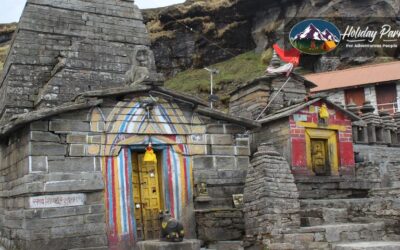 In the beautiful state of Uttarakhand, Tungnath Temple is India's highest Shiva temple. It stands as one of the holiest shrines dedicated to Lord Shiva. It's not only an ancient architecture but also a place of deep spiritual significance. To help you explore the...