Uttarakhand, nestled in the lap of the majestic Himalayas, is a paradise for nature lovers and adventure enthusiasts. With its stunning landscapes, serene surroundings, and charming hill stations, it offers a plethora of options for a memorable getaway. Two of the most popular hill stations in Uttarakhand are Auli and Chopta, each offering its own unique charm and experiences. If you're torn between the two, let's dive into a detailed comparison to help you choose the perfect hill station for your next vacation.
Weather Conditions Of Auli And Chopta
Both Auli and Chopta boast pleasant weather throughout the year, making them ideal for a visit at any time. However, the choice of season depends on the activities and experiences you seek.
Auli is renowned for its skiing and snowboarding during the winter months (December to February), attracting adventure enthusiasts from all over the country. The slopes of Auli offer an excellent opportunity for both beginners and experienced skiers to indulge in the thrill of gliding down the snow-covered mountains. The winter season also transforms Auli into a magical wonderland with pristine white landscapes.
Chopta, on the other hand, is known for its captivating trekking trails and blooming rhododendrons during the spring season (March to May). The trails become accessible, and the weather is pleasant, making it an ideal time for hiking and exploring picturesque landscapes. The hills come alive with vibrant rhododendron flowers, adding a burst of color to the surroundings.
Places To Visit At Auli And Chopta
Auli offers breathtaking views of the snow-clad peaks, with attractions that showcase the natural beauty and spirituality of the region.
Some of the must-visit places in Auli include:

Auli Ropeway: Known as one of the longest cable car rides in Asia, the Auli Ropeway offers mesmerizing views of the surrounding peaks and valleys.

Gurso Bugyal: It is a picturesque meadow offering panoramic views of Nanda Devi, Trishul, and other Himalayan peaks. The gentle slopes covered in vibrant flowers make it an ideal spot for a leisurely walk.

Chattrakund: Situated just a few kilometres from Auli, Chattrakund is a tranquil lake surrounded by lush greenery. It is an ideal spot for a peaceful picnic or to simply soak in the serene ambience.
Chopta, often referred to as the "Mini Switzerland" of India, is a paradise for trekkers. The region offers a range of attractions that showcase the natural beauty and spirituality of the area.
Some of the must-visit places in Chopta include:
Tungnath Temple: Situated at an altitude of 3,680 meters, Tungnath is the highest Shiva temple in the world. The trek to Tungnath is a rewarding experience, passing through picturesque meadows and offering breathtaking views of the Himalayas.

Chandrashila Peak: Located near Tungnath, Chandrashila Peak offers panoramic views of the snow-covered peaks. It is a popular trekking destination and is famous for its mesmerizing sunrise and sunset views.

Deoria Tal: A beautiful lake surrounded by lush green forests, Deoria Tal is known for its tranquillity and scenic beauty. The calm waters of the lake reflect the surrounding snow-capped peaks, creating a mesmerizing sight.

Valley of Flowers: Chopta serves as the gateway to the enchanting Valley of Flowers National Park. This UNESCO World Heritage Site is renowned for its vibrant alpine flowers, making it a paradise for nature lovers and photographers.
Food And Cuisine Of Auli And Chopta
Both Auli and Chopta offer a variety of culinary delights that cater to different tastes. Exploring the local cuisine is an essential part of any travel experience.
In Auli, you can savour the flavours of Garhwali cuisine, known for its simplicity and use of locally sourced ingredients.
Some of the must-try dishes include:
Kafuli: A nutritious dish made from green leafy vegetables, it is flavoured with local spices and served with steamed rice or roti.

Chainsoo: A popular lentil curry made from roasted black gram, Chainsoo is often enjoyed with hot rice or roti.

Jhangora ki Kheer: A traditional dessert made from locally grown barnyard millet, Jhangora ki Kheer is a sweet treat to indulge in.
Chopta, being a smaller and less commercialized destination, has limited dining options. Local dhabas and small eateries serve delicious North Indian fare like Rajma Chawal, Aloo Paratha, and Maggi. It's an excellent opportunity to savour the simplicity and authenticity of the local cuisine.

Accommodation Facility At Auli And Chopta
Auli offers a range of accommodation options, including luxury resorts, budget hotels, camps, and government guesthouses. You can choose from the quaint wooden cottages overlooking the majestic mountains or opt for a comfortable stay in hotels equipped with modern amenities.
Chopta, being a relatively lesser-known destination, offers limited but cosy accommodation options. There are a few guesthouses, campsites, and eco-friendly resorts that blend well with the natural surroundings, providing a serene and peaceful atmosphere.
If you are planning for Chopta or Auli and looking for an affordable and comfortable accommodation facility, book a camping package at Holiday Park Chopta. We have the best campsites to have a blissful experience at these two hill stations in Uttarakhand.
Adventure Activities at Auli and Chopta
If you are an adventure enthusiast, both Auli, and Chopta have a lot to offer. Here's a look at the thrilling activities you can enjoy at each destination:
Auli is a renowned skiing destination, offering thrilling slopes for both beginners and experienced skiers. The Auli Ski Resort provides ski equipment on rent and professional instructors to guide you through your skiing adventure. The Auli Ropeway, one of the longest in Asia, not only offers mesmerizing views but also provides access to the upper slopes for skiing and snowboarding.
Chopta, on the other hand, is a trekker's paradise. The region offers a variety of trekking trails suitable for different levels of expertise. The most popular trek in Chopta is the trek to Tungnath Temple and Chandrashila Peak. The trek is relatively easy and rewards you with panoramic views of the surrounding Himalayan peaks. Camping in Chopta is also a popular activity, allowing you to spend a night under the starry sky and experience the tranquillity of the mountains.

Nature and Scenic Beauty of Auli and Chopta
Both Auli and Chopta offer breathtaking views and pristine natural beauty. Auli's snow-capped peaks, lush meadows, and tranquil artificial lake create a picturesque setting that leaves visitors in awe. The panoramic views of famous peaks like Nanda Devi, Trishul, and Kamet are truly mesmerizing. The region is also blessed with a rich variety of flora and fauna, making it a haven for nature lovers.
Chopta, nestled amidst dense forests and meadows, captivates visitors with its serene and untouched beauty. The captivating landscapes, blooming rhododendrons, and panoramic vistas of the Himalayas make it a photographer's paradise. The region is known for its peaceful ambiance, allowing visitors to connect with nature and experience a sense of calm and tranquillity.

Safety At Auli And Chopta
When it comes to safety, both Auli and Chopta are considered relatively safe destinations for travelers. However, it's always important to take necessary precautions and follow safety guidelines while exploring any destination.
Auli has a well-developed tourism infrastructure and is frequented by a significant number of tourists, ensuring a certain level of safety. The skiing activities in Auli are closely monitored, and proper safety measures are in place to ensure the well-being of visitors. It is advisable to follow the instructions of professional instructors and use appropriate safety gear while participating in adventure activities.
Chopta, being a quieter and less commercialized destination, is known for its peaceful and secure environment. The trekking trails in Chopta are generally safe, but it's important to be well-prepared and informed about the route. It is recommended to trek with a guide or join organized trekking groups to ensure safety, especially for those who are less experienced.
Both destinations have reliable mobile network coverage, and emergency services are accessible. It is advisable to carry necessary medications, have a first aid kit, and inform someone about your travel plans and itinerary for added safety.

Affordability At Auli And Chopta
Affordability is an important factor to consider while choosing a hill station for your vacation. Both Auli and Chopta offer a range of options to suit various budgets.
Auli, being a more established tourist destination, has a wider range of accommodations and dining options, catering to different budget preferences. Luxury resorts, budget hotels, and government guesthouses are available, allowing visitors to choose according to their budget and requirements. It is advisable to book accommodations in advance, especially during peak seasons, to secure the best rates.
Chopta, being a relatively lesser-known and less commercialized destination, offers more affordable accommodation options. There are guesthouses, campsites, and budget-friendly resorts that provide comfortable stays without breaking the bank. However, it's important to note that the options may be limited compared to Auli.
In terms of food, both Auli and Chopta offer a variety of dining options to suit different budgets. Local eateries and dhabas in Chopta provide affordable and delicious North Indian cuisine. In Auli, you can find a range of restaurants serving local Garhwali dishes as well as Indian, Chinese, and continental cuisine to suit various budgets.
Overall, both Auli and Chopta offer options for affordable travel experiences, allowing travelers to enjoy the beauty of Uttarakhand's hill stations without straining their wallets.
Conclusion
In conclusion, choosing between Auli and Chopta depends on your preferences and the experiences you seek. If you are a ski enthusiast or want to experience winter sports, Auli is the perfect choice. On the other hand, if you enjoy trekking, serene landscapes, and a peaceful atmosphere, Chopta offers an idyllic setting. Regardless of your choice, both destinations promise a memorable and rejuvenating vacation in the lap of nature.
So, pack your bags and get ready to explore the captivating beauty of Uttarakhand's hill stations. Book your camping packages, explore the options provided by the Holiday Park Chopta, and get ready to experience the enchanting beauty of Auli and Chopta in Uttarakhand. Create memories that will last a lifetime as you embrace the wonders of nature and indulge in thrilling adventures. Happy travels!
So get in touch with our customer helpdesk to know more details about our best camping packages in Chopta. Contact us at:
Phone: +91-9758444450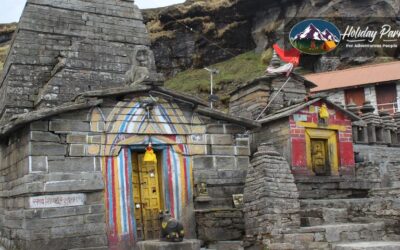 In the beautiful state of Uttarakhand, Tungnath Temple is India's highest Shiva temple. It stands as one of the holiest shrines dedicated to Lord Shiva. It's not only an ancient architecture but also a place of deep spiritual significance. To help you explore the...