Auli, nestled in the breathtaking Garhwal Himalayas in India, is a haven for adventure enthusiasts seeking an adrenaline rush. With its pristine slopes, majestic peaks, and mesmerizing landscapes and snow, Auli offers a plethora of thrilling adventurous activities that will leave you craving for more. From heart-pumping skiing expeditions to exhilarating cable car rides, this charming hill station has something for everyone. If you're planning a visit to Auli and seeking adventure sports, you're in for a treat. In this blog, we will give you a
list of 12 adventurous activities
that you must experience in Auli. Get ready with this given list of things to do in Auli and embark on a journey filled with excitement, breathtaking views, and unforgettable memories.
1. Skiing
Auli boasts some of the best ski slopes in India, attracting ski lovers from around the globe. It is one of the most popular adventure sports in Auli. The glistening white slopes provide the perfect playground for both beginners and advanced skiers. Whether you're a seasoned pro or a first-time skier, Auli offers ski courses and instructors to help you master this exhilarating sport. Feel the wind on your face as you glide down the slopes, surrounded by the stunning vistas of snow-clad peaks. With a ski season that extends from December to March, Auli is a must-visit destination for ski enthusiasts.
2. Snowboarding
Glide through the powdery snow and feel the rush of adrenaline as you conquer the slopes on a snowboard. Auli's challenging terrain guarantees an unforgettable experience for snowboarding enthusiasts. With wide-open spaces and natural jumps, Auli offers the perfect playground for freestyle snowboarding. Strap on your snowboard, perfect your tricks and experience the thrill of sliding down the slopes with the majestic Himalayas as your backdrop.
3. Trekking
Embark on a captivating trekking expedition amidst the snow-capped mountains of Auli. The Kuari Pass Trek and the Valley of Flowers Trek are popular choices for nature enthusiasts. The Kuari Pass Trek takes you through pristine forests and charming meadows and offers breathtaking views of the Nanda Devi peak. The Valley of Flowers Trek, a UNESCO World Heritage Site, treats you to a vibrant tapestry of alpine flowers and diverse flora. Immerse yourself in the serenity of the mountains, breathe in the crisp Himalayan air, and let the beauty of nature unfold before your eyes.
4. Cable Car Ride
Hop aboard the famous Auli Ropeway, the highest and longest cable car ride in Asia. Marvel at the panoramic vistas of the Himalayan peaks as you ascend to the summit. This cable car ride adventure sport in Auli offers a spellbinding view of the surrounding mountains, valleys, and dense forests. As you glide over the snow-covered slopes, you'll be treated to a visual spectacle that will leave you awestruck. Don't forget to capture the awe-inspiring moments on your camera, as they will be cherished for a lifetime.
5. Camping
Set up your camp amidst the picturesque meadows and pine forests of Auli. Wake up to breathtaking views and soak in the tranquility of nature.
Camping in Auli
is a surreal experience where you can disconnect from the chaos of the world and connect with the serene beauty of the mountains. Enjoy a bonfire under a starlit sky, indulge in delicious meals cooked over a campfire, and fall asleep to the soothing sounds of nature. Auli's campsites offer a range of facilities, from basic tents to luxury Swiss cottages, ensuring a comfortable and unforgettable camping experience.
6. Mountain Biking
Feel the wind on your face as you navigate through rugged trails on a mountain bike. Auli's diverse terrain offers thrilling biking opportunities for all skill levels. From downhill descents to challenging uphill climbs, mountain biking in Auli is an adventure like no other. Ride through dense forests, maneuver around rocky paths, and witness breathtaking views at every turn. Whether you're a beginner or an experienced rider, Auli's mountain biking trails will test your skills and provide an adrenaline-pumping experience.
7. Paragliding
Take flight like a bird and experience the thrill of paragliding over the stunning landscapes of Auli. Soar high above the mountains and witness the beauty of the Himalayas from a unique perspective. Auli's favorable wind conditions and panoramic views make it an ideal destination for paragliding enthusiasts. Strap on your harness, run down the slope and feel the exhilaration as you glide through the air. The feeling of freedom and the bird's-eye view of the majestic Himalayas will leave you speechless.
8. Rappelling
Challenge yourself with rappelling, a thrilling activity that involves descending down vertical rock faces. Auli's rocky cliffs provide the ideal setting for this adventurous sport in Auli. Test your strength, agility, and mental fortitude as you descend down the cliff, surrounded by the awe-inspiring beauty of the mountains. Rappelling in Auli offers a unique opportunity to conquer your fears, push your limits, and experience an adrenaline rush like never before.
9. Zip-lining
Feel the rush of adrenaline as you zip across the sky on a high-speed zip line. Zip-lining, one of the best Auli adventure activities, will give you an unmatched sense of exhilaration. Soar through the air, suspended by a cable, and enjoy breathtaking views of the surrounding landscape. The zip-line experience in Auli is a perfect blend of thrill and natural beauty, allowing you to immerse yourself in the pristine surroundings while experiencing an adrenaline-pumping adventure.
10. Mountain Climbing
Test your strength and endurance by scaling the majestic peaks of Auli. Mountaineering enthusiasts will find numerous challenging routes to conquer. Auli's peaks, including Nanda Devi, Kamet, and Trishul, offer thrilling opportunities for climbers of all levels. Whether you're a seasoned mountaineer or a beginner looking to push your limits, Auli's mountains will reward you with breathtaking views and a sense of achievement. Get an unforgettable mountaineering expedition and witness the raw beauty of the Himalayas up close in Auli.
11. Ski-Jumping
Experience the thrill of flying through the air as you launch off a ski jump. Auli offers ski-jumping facilities for those seeking an extra dose of excitement. Test your skills and courage as you soar through the air, emulating the world's top ski jumpers. Auli's ski jump platform provides a safe and controlled environment for this exhilarating sport. Capture the moment as you take flight and experience the rush of adrenaline that comes with ski-jumping.
12. Snowshoeing
Explore the winter wonderland of Auli on snowshoes, a fun and easy way to trek across the snow-covered terrain. Strap on your snowshoes and venture into the pristine snowfields of Auli. Walk effortlessly on the snow, discover hidden trails, and soak in the serenity of the winter landscape. Snowshoeing in Auli allows you to experience the magic of the snow-clad mountains at your own pace, making it an ideal activity for nature lovers of all ages. These are just a few of the adventures that await you in Auli. From mountain biking along rugged trails to paragliding over stunning landscapes, there are many different things to do in Auli. The opportunities for excitement and exploration seem endless in this natural paradise, where every corner reveals a new adventure waiting to be embraced.
To Conclude
In conclusion, Auli is a paradise for adventure seekers, offering a wide range of thrilling sports and activities. Whether you're an avid skier, a daring paraglider, or a nature lover seeking a memorable trekking experience, Auli has it all. Immerse yourself in the beauty of the Himalayas, feel the rush of adrenaline, and create unforgettable memories in this adventure-packed destination. Book your ultimate adventure at
Holiday Park Chopta
, where you can experience the best of Auli's adventurous sports. Our camping packages offer a perfect blend of excitement, comfort, and natural beauty. Wake up to breathtaking views, indulge in delicious meals, and immerse yourself in the tranquility of nature.
So get in touch with our customer helpdesk to know more details about our best camping packages in Chopta. Contact us at:
Phone: +91-9758444450

 

Mail:

info@holidayparkchopta.com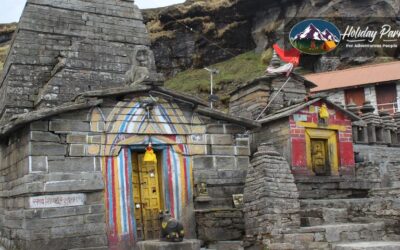 In the beautiful state of Uttarakhand, Tungnath Temple is India's highest Shiva temple. It stands as one of the holiest shrines dedicated to Lord Shiva. It's not only an ancient architecture but also a place of deep spiritual significance. To help you explore the...