Experience The Best Camping In Chopta: Luxury And Cheap Packages At Holiday Park Chopta
Chopta is a stunning destination located in the lap of Uttarakhand, India, surrounded by the majestic Himalayas. It is renowned for its natural beauty, picturesque landscapes, and beautiful environment. The peaceful surroundings make it an ideal retreat for those seeking a break from the chaos and stress of urban life.
The region is home to a diverse range of flora and fauna, making it a haven for nature lovers and wildlife enthusiasts. Chopta is an ideal destination for adventure seekers, as it offers a wide range of activities such as trekking, camping, bird watching, and more. Additionally, the region is steeped in cultural heritage and history, making it an excellent destination for those interested in exploring local customs and traditions.
So, if you are planning a trip to Chopta and looking for an adventurous and luxurious camping experience, you are landing on the right page. Holiday Park Chopta offers all-inclusive camping packages that will make your trip an amazing experience.
Best Camping in Chopta: Chopta is a place that is surrounded by beautiful fields, dense forests, and high mountains. This place is heaven for camping lovers. Holiday Park Chopta offers the best camping in Chopta, leaving you with an unforgettable experience. The campsite is located amidst the lush green trees, offering a stunning view of snow-covered mountains. Our camping has all the essential luxuries to ensure a comfortable stay. The tents are immense and comfortable so that you can enjoy your stay fully. Our staff is friendly and always ready to help and guide you throughout your stay. You can also enjoy a bonfire at night and the starry sky, which will relax your mind and body.
Luxury Camp in Chopta: If you are looking for a luxurious camping experience in Chopta, then Holiday Park Chopta is here for you. Our luxury camps in Chopta, Uttarakhand, are designed to provide a comfortable stay without compromising the place's natural beauty. Moreover, the best tour packages we offer are willing to give you an adventurous trip to Chopta.
The luxury tents are equipped with all the modern amenities, including attached bathrooms, comfortable beds, and a private balcony. The tents offer a breathtaking view of the mountains. You can enjoy a hot cup of tea while enjoying the scenic beauty of the place.
Cheap Chopta Camping: At Holiday Park Chopta, we understand that everyone has different budgets and requirements when it comes to travel. That's why we offer a range of the best tour packages and Chopta Camping to suit all budgets and preferences.
We believe that everyone should have the opportunity to explore the stunning natural beauty of Chopta without breaking the bank. That's why we offer affordable Chopta camping options that provide all the necessary amenities and comforts without compromising on the quality of your experience.
In addition to affordable camping accommodations, we also offer a range of budget-friendly activities, such as guided hikes, nature walks, and bird watching. Our staff is friendly and always tries their best to satisfy your needs. In addition, you can also enjoy meeting other travellers during your stay with us.
Conclusion
Holiday Park Chopta offers an all-inclusive camping experience that aims to make your trip to Chopta an unforgettable and fantastic experience. You can choose from a range of our camping and tour packages in Chopta that suit your budget and preferences. Our campsite in Chopta has all the amenities to ensure a comfortable stay. You can enjoy various activities, including trekking, camping, bird watching, and other adventure activities in Chopta. 
So get in touch with our customer helpdesk to know more details about our best camping packages in Chopta. Contact us at:
Phone: +91-9758444450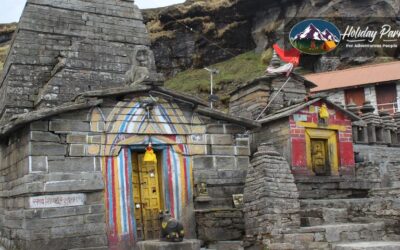 In the beautiful state of Uttarakhand, Tungnath Temple is India's highest Shiva temple. It stands as one of the holiest shrines dedicated to Lord Shiva. It's not only an ancient architecture but also a place of deep spiritual significance. To help you explore the...