Auli, nestled in the Garhwal Himalayas of Uttarakhand, is a mesmerizing hill station renowned for its scenic beauty and adventure sports. It offers a perfect retreat for nature lovers, trekkers, and skiing enthusiasts. If you're planning a trip to Auli and looking for an unforgettable camping experience, it's crucial to choose the best camps in Auli that suit your preferences and requirements. In this blog post, we'll provide you with 10 valuable tips to help you select the perfect camp in Auli. Whether you're a seasoned camper or a first-timer, these travel tips will help you make an informed decision and ensure a memorable camping experience.
1. Research and Reviews
When it comes to choosing the best campsites in Auli, conducting thorough research is key. Explore various online platforms, travel forums, and social media channels to gather comprehensive information about different campsites. Read reviews from previous campers to get insights into their experiences. Look for common themes in the reviews to understand the campsite's strengths and weaknesses. By doing your research and considering multiple sources of information, you can make a more informed decision.
2. Choose the Suitable Location
The location of the campsite can greatly impact your overall experience in Auli. Consider campsites that offer convenient access to major attractions, trekking routes, and ski slopes. Look for campsites that provide stunning views of the surrounding mountains and landscapes, allowing you to immerse yourself in the natural beauty of the region. A campsite with a scenic location will enhance your camping experience and provide breathtaking backdrops for your adventures.
3. Look at Facilities and Amenities
Evaluate the facilities and amenities offered by the campsite. Look for clean and comfortable tents or accommodation options that can ensure a good night's sleep. Check if the campsite has well-maintained washrooms with proper sanitation facilities. Access to hot water is essential, especially in colder months. A reliable electricity supply is also important for charging devices or any other necessary requirements. Additionally, consider the safety measures in place, such as fire safety protocols and first aid provisions. Look for campsites that prioritize the well-being of their guests.
4. Check Safety Measures
Prioritizing safety is crucial when selecting a campsite. Ensure that the campsite follows necessary safety protocols and has measures in place to address emergencies. Look for campsites with experienced staff members who are trained in handling various situations and can provide assistance when needed. Adequate fire safety measures, including fire extinguishers and designated fire pits, are essential. The availability of first aid kits and staff trained in first aid can provide peace of mind during your camping trip.
5. Book Experienced Camp Organizers
Consider the expertise and experience of the camp organizers. Opt for campsites that have a good reputation and are run by experienced professionals who possess in-depth knowledge of the region. Expert and experienced organizers like Holiday Park Chopta understand the local terrain, weather conditions, and safety precautions necessary for a successful camping trip. They can provide valuable guidance, ensure a well-organized experience, and offer insights into the best activities and attractions in the area.
6. Go for a Variety of Activities
Check if the campsite offers a diverse range of activities and adventure sports. Auli is known for its trekking routes and skiing opportunities, so ensure that the campsite provides access to these activities. Look for campsites that offer additional activities such as nature walks, bird watching, bonfires, or stargazing sessions. Having a variety of activities available ensures that there is something for everyone and adds excitement and adventure to your camping experience.
7. Have a Sound Group Size and Ambiance
Consider the campsite's capacity and the type of ambience it offers. If you prefer a quieter and more intimate camping experience, look for campsites that accommodate smaller groups. These campsites provide a serene and peaceful environment, allowing you to connect with nature and relax. On the other hand, if you enjoy socializing and meeting new people, larger campsites with a vibrant atmosphere may be the right choice for you. Consider your preferences and choose a campsite that aligns with your desired ambience.
8. Plan Your Budget
Set a budget for your camping trip and explore campsites that offer value for money. While affordability is important, it's essential to strike a balance between cost and the quality of facilities and services provided. Cheaper options may have limitations or compromises, so consider the overall value and ensure that the campsite meets your expectations within your budget constraints. Compare prices, included services, and customer reviews to make an informed decision.
9. Take Care of Flexibility and Customization
Consider whether the campsite allows flexibility and customization options. Some campsites offer tailor-made packages that cater to specific preferences. For example, they may offer shorter or longer stays, additional activities, or personalized itineraries. This flexibility ensures that you can design your camping experience to suit your individual requirements. Look for campsites that are willing to accommodate your needs and provide customized experiences.
10. Take Recommendations and Referrals
Seek recommendations from friends, family, or trusted travel agents who have visited Auli. Their first-hand experiences can provide valuable insights and help you make an informed decision when selecting a camp. Personal referrals often offer trustworthy opinions and recommendations that can guide you in choosing the best campsite for your Auli adventure. Additionally, you can also consider online travel communities and forums where fellow travellers share their experiences and recommendations.
To Conclude
Choosing the best camps in Auli requires careful consideration and research. By following these 10 tips, including conducting thorough research, reading reviews, evaluating amenities, considering safety measures, and seeking recommendations, you can make an informed decision that aligns with your preferences, budget, and safety requirements. For an unforgettable camping experience in Auli, we recommend exploring the camping packages offered by Holiday Park Chopta. Book now and embark on a journey filled with natural beauty, adventure, and lasting memories.
So get in touch with our customer helpdesk to know more details about our best camping packages in Chopta. 
Phone: +91-9758444450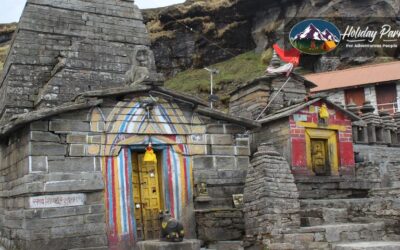 In the beautiful state of Uttarakhand, Tungnath Temple is India's highest Shiva temple. It stands as one of the holiest shrines dedicated to Lord Shiva. It's not only an ancient architecture but also a place of deep spiritual significance. To help you explore the...